NOTE: PROMOTION ONLY VALID TODAY! GET IT FAST, BECAUSE GONE = 
AWAY!
Dye and moisturize your hair in one wash!
Glamorous, shiny hair without bleaching - Glamup combines coloring and moisturizing in one step, without damaging your hair. Simply apply the color shampoo and rinse with warm water, that's all!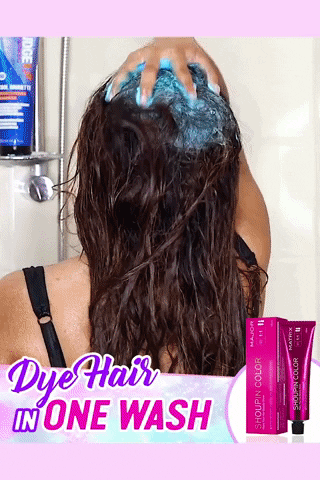 Ammonia-free and gentle on the hair, the bright colors stay on the hair for a long time. The intensely moisturizing formula nourishes the hair during coloring, prevents hair breakage and adds shine.
Why our customers love this product
✔ Convenient - Color your hair at home easily and conveniently whenever you want and save the time and money for a visit to the hairdresser.

✔ Easy to use - Wash, color and moisturize your hair in one treatment. Simply from the comfort of your own shower. Apply the color shampoo, wait about 10 minutes and then rinse with warm water.

✔ Long lasting - The hair shampoo not only colors your hair, but also moisturizes the hair follicles and repairs damaged hair. So you come out of the shower with a shiny new hair color.

✔ Safe to use - free from ammonia and other harmful chemicals.
Specifications
Net weight: 100ml
Shelf life: about 3 months
100% SATISFACTION GUARANTEE
In case of complaints or questions you can reach us 24/7 via our contact form. Today you can benefit from free shipping until 23:59. Shipping is done via reliable shipping companies like DHL and Hermes. After purchase you will receive a tracking in your email.
Enjoy 30-Day Free Returns
CAN I EDIT OR CANCEL MY ORDER?
Let's connect as soon as possible to make changes to your order before your package ships!
Our fulfillment team works fast as we're so excited for you to get your new Unnila garment

Email us: info@synistore.com 

Our team moves quickly! 

Orders placed before 12 pm PST Monday-Friday ship out the same day!

Orders placed after 12 pm PST Friday - Sunday will ship out on the next business day 


If we are outside of business hours when you reach out, we will get back to you first thing the next morning!
We are available 6am-6pm PT 7 days a week.
Our standard shipping option covers the following:
- USA: 5-7 business days
- International: 8-14 business days 
Our express shipping option covers the following:
- USA: 3-5 business days
- International: 5-10 business days 
Due to International processing delays in relation to COVID-19,  delivery times can be longer than usual due to security and customs processing. Thank you so much to our friends around the world for your patience and understanding!
Please note that orders placed on the weekend or US Federal Holidays will be processed on the following business day.